The Nov 16 by-election in Tanjong Piai in Johor will provide two telling tests: the first is the level of public support for Prime Minister Dr Mahathir Mohamad's leadership of Pakatan Harapan. This Bersatu seat was won from BN as a result of shifts of support across a variety of demographic markers – race, generation and gender – that were in line with the 'Mahathir' pull factor in last year's May election. Now, almost a year and a half later, the contest will be a bellwether of his leadership.
The second test is that of BN – the former governing coalition that has lost support over the last decade, especially among non-Malays. By fielding a MCA candidate – former two-term MP Wee Jeck Seng – and giving the seat to the party that traditionally held the seat, BN will showcase whether it can return to national power by capturing support across ethnic groups. It is doing so after announcing last month the Malay chauvinist Umno-PAS Unity Charter in the hope of capturing Malay sentiment, while extending outreach to Chinese voters.
Tanjong Piai will thus be an indicator of different national leadership ambitions. Both aim to make the contest a mission possible – revamping leadership options. Past voting patterns and prospective scenarios point to a highly competitive seat, one in which the advantage lies with the BN opposition.
Four factors will be decisive – whether MCA manages to win over additional Chinese support, whether 2018 PAS supporters will vote for MCA/BN, whether Gerakan will play spoiler by capturing dissatisfaction that might have gone to MCA, and finally whether younger voters will stay loyal to Harapan or move to the alternative BN opposition.
Below I lay out different scenarios, showing how close the contest could be with different voter shifts.
'Mahathir factor': Recent voting patterns
Tanjong Piai is a mixed seat, split between Malay and Chinese voters. It includes a small share of Indians/Others. While it is not ethnically representative nationally, the constituency requires that parties appeal across races, winning support of both the country's major ethnic communities.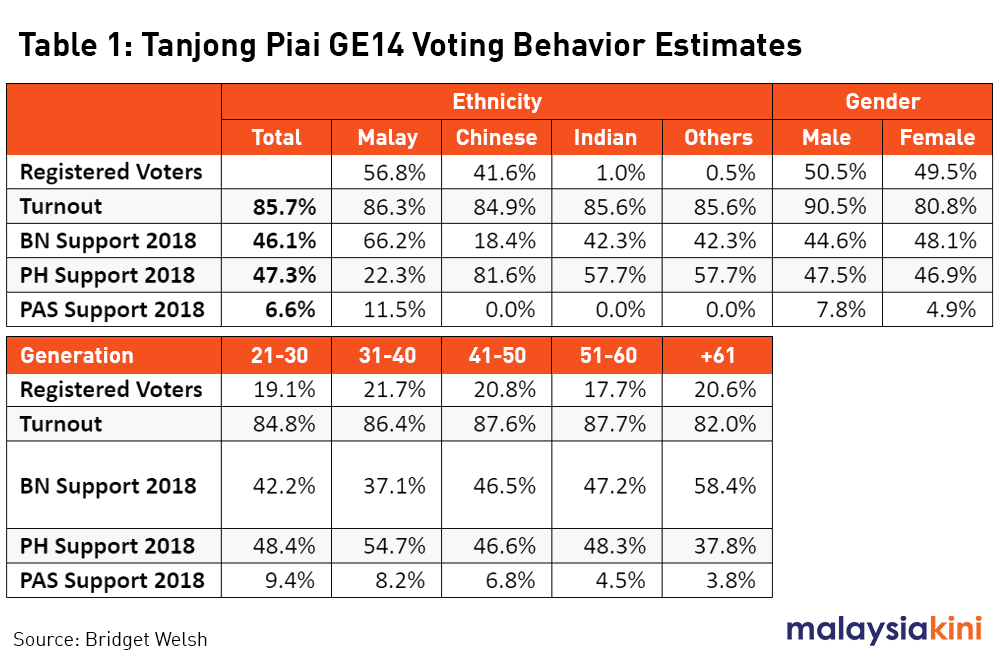 Traditionally, the seat's multi-ethnicity was one of the factors that made it a secure MCA seat. It was these same 'mixed' features that allowed it to swing to Harapan/Bersatu.
While Harapan made gains in support across races in GE14, the most significant loss of support for MCA was among Malays, an estimated 21.2 percent drop. This decline in support in 2018 was divided among Harapan/Bersatu which captured an estimated 9.7 percent more support and PAS which won an estimated 11.5 percent of Malays. The main Chinese shift away from BN occurred in 2013 when the MCA lost an estimated 26.2 percent of support, which eroded another estimated 3.5 percent in 2018.

The shift was not only by ethnicity – a key aspect was gains among voters under 40, another important dimension of voting behaviour in GE14. The BN lost an estimated 12.9 percent of support of voters under 30, and an estimated 14.1 percent of voters from 31-40 years old. The BN's erosion of support among younger voters has been ongoing for over a decade. Mahathir/Harapan also dented support among older voters where BN lost an estimated 7.4 percent of support. BN aims to reverse this trend in the by-election, as it has in recent by-elections.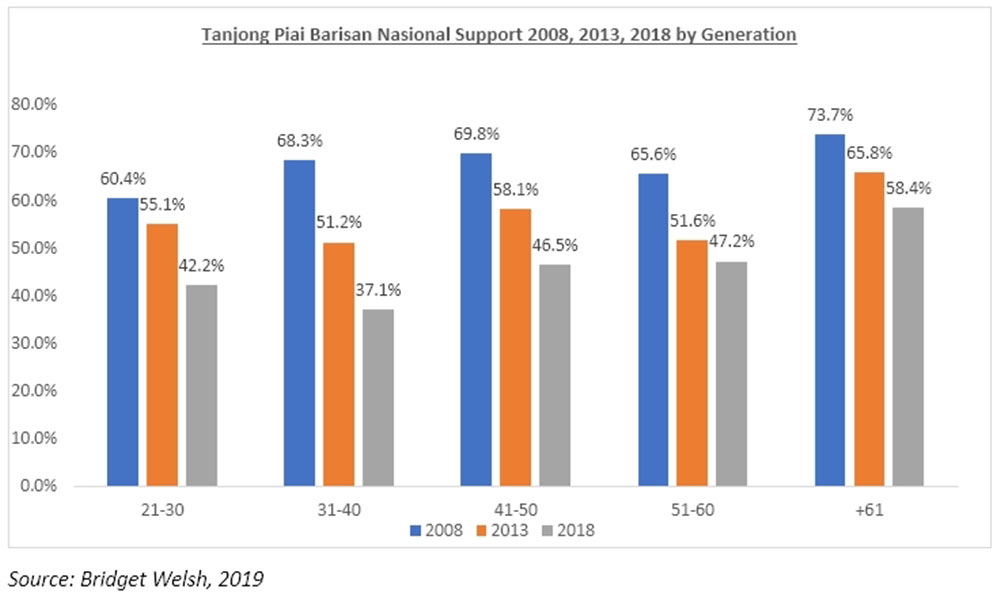 A third important shift involved gender voting patterns. While BN has usually won over female voters compared to Harapan and PAS, Tanjong Piai is a seat that has bucked national trends, with less female support for the BN compared to men in 2008. By 2013, there was an even gender split. By 2018, the national pattern of female favouring the BN occurred, but the difference in Tanjung Piai was lower than the national average. The shifts over time, however, show that gender voting matters in this seat. Mahathir and Harapan won over women in GE14 compared to the earlier victory, but disproportionately men moved in greater numbers away from BN.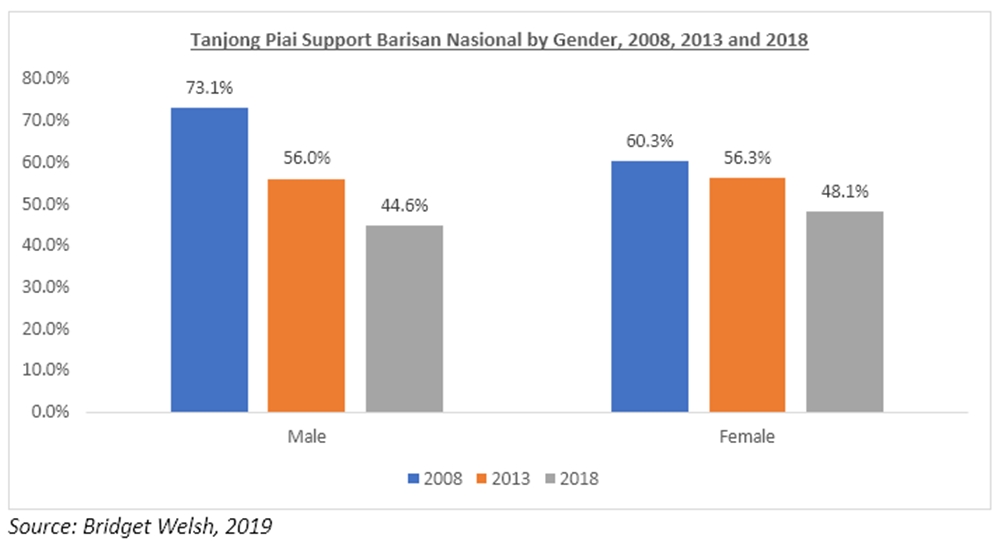 Projecting scenarios
Given the varied dimensions of voting behaviour by ethnicity, generation, and gender, as well as the competitiveness of the seat and changed political terrain, Tanjong Piai is an interesting contest. Table 2 details potential outcomes. These scenarios take account of who is competing and how these factors may shape outcomes and draw from estimates of polling station results.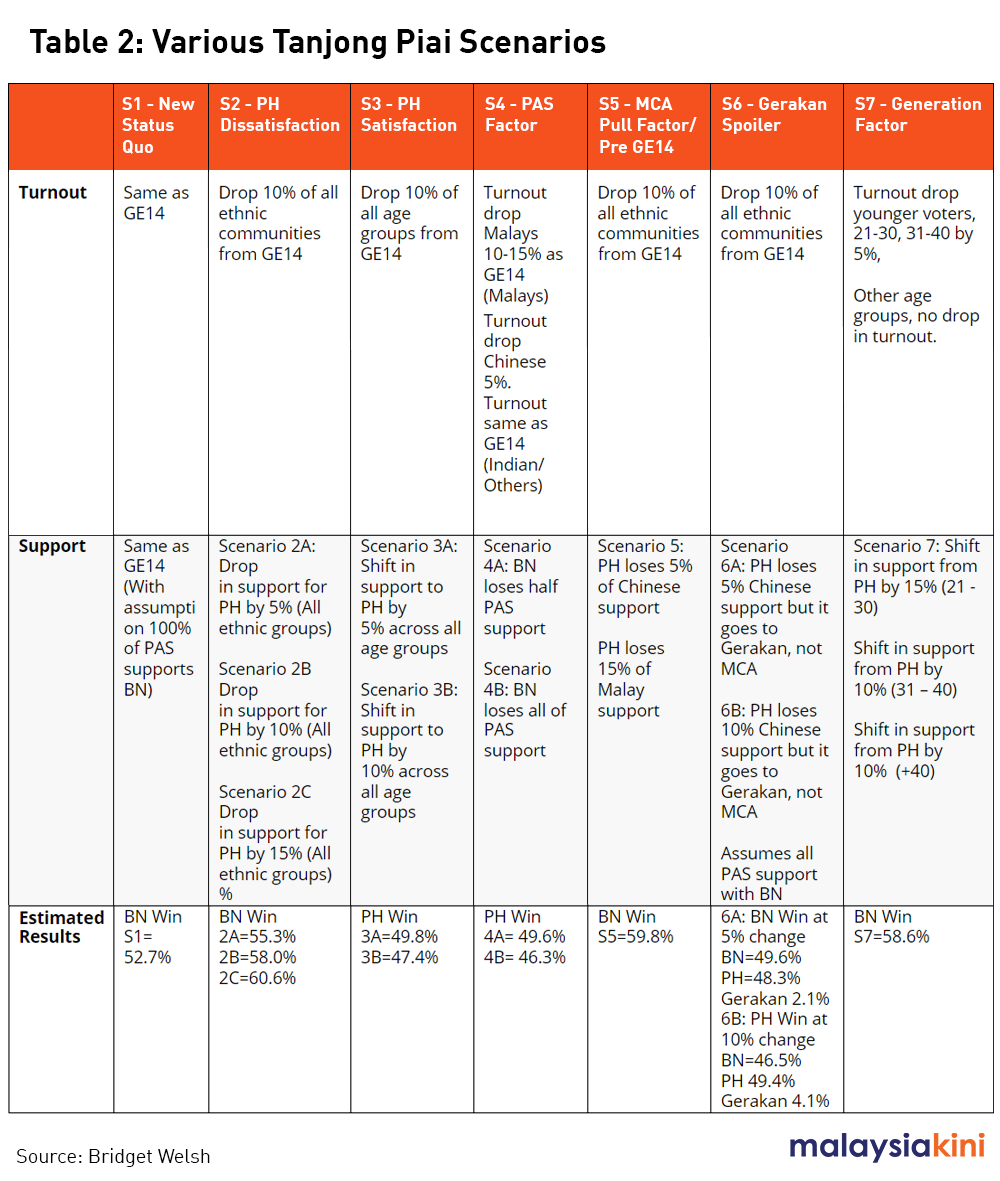 Scenario 1 is the 'new' status quo, namely where PAS and Umno voters support each other in alliance. This would lead to a BN victory. This result would depend on whether the new alliance will work on the ground.
Scenario 2 outlines a Harapan 'dissatisfaction' situation with a drop in voter turnout of 10 percent (from 85.7 percent), as is often the case in by-elections, and given the number of young people working outside of the constituency. Also, voters may choose not to vote rather than vote for the 'other'. It then looks at potential varied drops in Harapan's support. All of these outcomes lead to a BN victory.
Scenario 3 'satisfaction' reverses the direction by outlining potential gains for Harapan, toward Harapan at 5 percent and 10 percent, with a similar 10 percent drop in turnout. These yield very slim Harapan victories, showcasing how hard the seat will be for Harapan to win.
Scenario 4 delves into how much PAS supporters can shape the outcome. Combined with a drop in turnout, a decline of more than half of those who voted for PAS in GE14 would lead to a potential Harapan victory, but one without the majority of voters and by a very slim margin. PAS has an impact on the results, even in Johor.
Scenario 5 examines the potential impact of MCA winning back 5 percent Chinese support and BN returning to the level of Malay support it had in GE13 – a gain of 15 percent. This BN optimal scenario leads to a comfortable BN victory, which explains in part why an MCA candidate was fielded.
Scenario 6 looks at the potential 'spoiler' effect of Gerakan. Having not held this seat, Gerakan has a slim chance of winning, but it can shape the results by pulling protest votes that might be uncomfortable going to MCA (in alliance with Umno and PAS). Given that its candidate is 'Chindian' (Chinese Indian) and female, this also may impact the results, winning some support from these groups. The level of support Gerakan pulls away from MCA will lead to different outcomes, with 10 percent of Chinese voters going to Gerakan yielding Harapan victory.
Scenario 7 shows the impact of changes among younger voters; a larger swing of voters under 40 yields a more comfortable victory for BN. The support among younger voters will be decisive.
The fluidity and variety in outcomes point to the competitiveness of the seat and how important the engagement will be with different groups in the electorate. Of these scenarios, BN has the advantage given trends in other by-elections and polling indicators of erosion of support for Harapan, especially among Malays.
Fierce campaign ahead
That said, the final outcome will depend on the campaign, which will be fiercely fought. Mahathir needs to win to reinject confidence in his leadership – a loss will only add to the ongoing discussion about the leadership transition. BN on its part needs to show that it can win over non-Malays even in an alliance with PAS, and it can become a 'national' coalition by being competitive in mixed seats.
Developments on the ground will matter. Sabotage from disgruntled parties – within Umno, PAS, Harapan at the local and national levels may have an effect, given the stakes involved. Resources are likely to pour in from all sides, which raises questions about the use of money. MCA wants to increase its parliamentary representation by 100 percent as the future of the party is at stake. A loss here in its traditional Johor base for MCA will mean further marginalisation.
On the surface, the campaign is going to look quite similar to the usual goodies-rich by-election. Below the surface, however, race, religion and more negative whispers about the risks of voting for the other are likely to spread. Race and religion are unlikely to be far from the surface.
The two main contenders – Harapan and BN – want to make the possible happen in order to revive their political chances. Indeed, Malaysia is a place where the possible can happen, but they will have to work for it and convince Tanjong Piai voters that they deserve another chance.