16 Nov

A blue wave in GE15? My projections – Part 2

Who will win the 15th general election (GE15)? Who will become Malaysia's next prime minister? The answers to these questions are arguably the most difficult to answer in Malaysia's history.

Part 1 set the context for the analysis and here in Part 2, my early projections are laid out. Part 3 will discuss the hottest frontline areas in greater detail for the coming polls.

This piece lays out where I see the current situation a few days from polling, drawing from fieldwork across all of Malaysia's states and from statistical projections of voting based on ongoing trends in the GE15 campaign, notably Perikatan Nasional's (PN) gains among Malay and younger voters and internal divisions in coalitions resulting in discontent on the ground in some seats.

Still uncertain

Like all projections, it is based on current assumptions, so this analysis should be seen as an indicator of trends and possibilities. The campaign still has three days to go, which are pivotal in determining the outcome in the many (nearly a third) of close races.

As is normal, one needs a caveat. Things can change and trends in voting cannot be confidently assumed. Importantly, as we have seen globally, election predictions are inevitably flawed in an age where social media and individual choices are shaped last minute and influenced by emotion and disinformation.

Given a large number of undecided voters, as much as 15 percent to 20 percent of the electorate, GE15 remains an open contest even with only a few days to go.

Nevertheless, we do see things are starting to settle in this GE15 campaign, as it bucks expectations, especially by over-confident political parties.

A look at the seats

Here is the projection. There are two colours – blue captures the seats that I am confident of calling and are safe for the respective coalitions currently.

Orange includes seats that are close (as well as the safe seats), but lean in a coalition's direction. Each of the colours adds up to 222 seats, the total.

As there are many highly competitive seats, the final count of each coalition can increase (or decrease) depending on what happens in the last few days (see the chart below).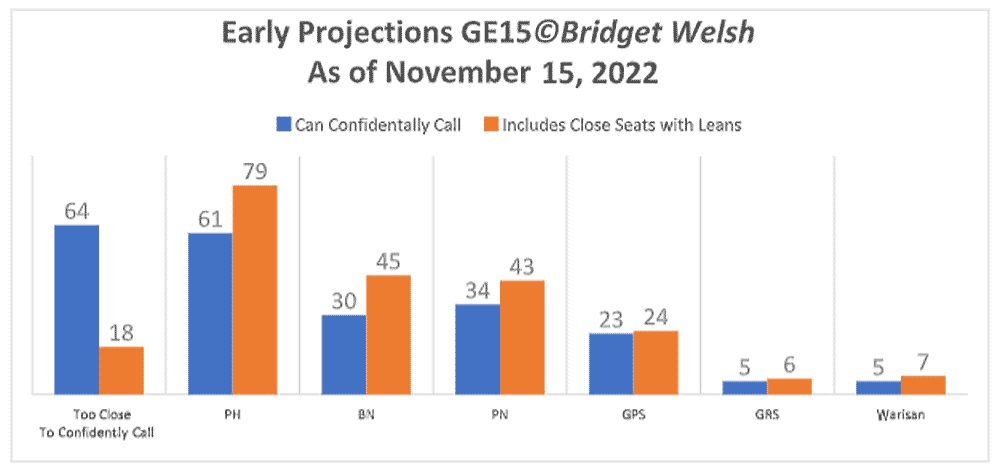 Let me draw out the main early projection findings:
Too close to call seats: Three days out from polling day, almost a third of the seats (29 percent) are too close to call confidently, a small swing in voting will change the result in 64 seats.

A total of 18 out of the 64 are too close to call seats, nearly eight percent of overall seats, are so close that the result will come down to small margins and they do not even lean in any clear direction, so every vote will count.
Turnout decisive: Malaysia still has a sizeable share of 15 percent to 20 percent of undecided voters who are still deciding whether to vote and for whom. Turnout will be decisive in the final results. To understand this impact, over half the seats can change results with five percent increase in turnout. Please vote. It will make a real difference.
Hung Parliament: Malaysia appears currently headed to a hung Parliament as coalitions will need to compromise and work together to form a government.

The decision of voters will decide who has the strongest negotiation position in forming a government and what type of government, notably whether it will include non-Malays.
Pakatan Harapan safest: As of today, Harapan appears to have the safest seats (61 which can extend to 79, if it includes those that currently lean in their favour), but not enough to form the government on its own at the moment. Do note that Harapan, and all the coalitions, still can increase their numbers depending on the result of the extremely close non-leaning 18 seats.
PN a contender: PN has emerged as a national contender, with greater leadership potential in terms of possible seat gains than in the past. PN is poised to win at least 30 seats, potentially increasing further as a total of 43 currently lean in the coalition's favour, with the majority of these to PAS. The Islamist party is becoming the biggest winner in PN's strong campaign.

PN's resource advantage also poises the party to gain through the last-minute use of resources, which has featured prominently in their campaign.
Umno-BN struggling: Umno-BN has lost significant electoral ground, primarily to PN. Another blue has had the wave on the ground so far. Umno's campaign lacks good leadership and focus.

Despite being displaced (so far), Umno-BN still remains a powerful coalition with 30 safe seats and another 15 leaning in the coalition's direction. The party is expected to make a hard push in the final days. It remains clear whether the resources allocated for the campaign go down to the ground.
GPS provides direction: At a confident 23 safe seats, Gabungan Parti Sarawak (GPS) will be decisive in determining the national government in an expected hung Parliament. GPS also has the potential to gain more seats in Sarawak as some of the 18 are too-close-to-call seats such as Julau.

In Sarawak, it is the impact of money geared toward more vulnerable voters and lower expected turnout that makes seats more difficult to call.

The perception among some Sarawakians that GPS is already allied with Umno and PAS has hurt the former in its campaign to date, as the coalition was expected to win more seats.
Sabah power: Sabah is more politically fragmented than Sarawak but will also be critical in forming a national government. How Harapan, Warisan and GRS-Umno perform will be crucial in the final count.

The latter Sabah-based coalitions have six and five safe seats at the moment, with Harapan only two safe seats, Sandakan and Kota Kinabalu.

More than in any election, Borneo votes matter. Sabah also has many too-close-to-call seats, such as Kota Marudu and Tawau.
In Part 3, I will elaborate further on the frontline of the seats, explaining the different frontlines of this election.
Let me close Part 2 by stressing again that the electoral race is that close and your vote will make a difference.
First published on malaysiakini.com.