25 Sep

By the numbers: PKR vs Muda

Less than three weeks ago, Malaysia's youth party Muda asked to join the opposition coalition Pakatan Harapan.

Last week, Harapan set up a committee of second echelon leaders – vested in the future of the coalition – to review the matter, along with the request for collaboration by PSM.

That came after a public wave of Muda-bashing and unnecessary vitriol, particularly from PKR supporters.

The opposition's pattern of airing differences in public has reinforced views that the opposition coalition cannot work together and continues to grapple with internal infighting.

In the past week, cooler sentiments have emerged as Harapan works to resolve its differences in the committee. A constructive resolution to this matter will shape Harapan's electoral fortunes.

Moving beyond emotions

To date, public sentiment has largely been against the inclusion of Muda in Harapan.

Arguments against its inclusion have rested on personal attacks of leaders, employed "lacking experience" ageist Baby Boomer "anti-youth" discriminatory outlooks, or wild speculations about the possible future behaviour of Muda.

Many of these views have been clouded by emotion, including PKR's own trauma as a party wrestling to manage its past conflicts and experience of being betrayed by its own.

PKR continues to equate Muda with its troubled relationship with Dr Mahathir Mohamad, bringing the trauma of the past into the present.

Moreover, Muda's expansion and multi-ethnic composition have been seen as a direct challenge to PKR, not helped by the open competition between the two parties in the seat of Larkin in the Johor polls. PKR fears further political displacement.

Despite openness to closer cooperation by many Harapan leaders, particularly in DAP and Amanah, resentment of Muda extends across the coalition as youth in all of Harapan's parties wrestle with inadequate support and space.

Harapan's younger leaders continue to be weighed down by senior leaders refusing to make way for needed generational change – one of the reasons for the rise of Muda in the first place.

What has been missing from the discussion to date is an in-depth look at the performance of the two parties in the recent Johor polls.

This piece addresses this deficit, moving the discussion away from emotions and speculation to data and reflection.

Drawing from the results of the Johor 2022 state election at the polling station levels and focus groups in Johor, this analysis of voting behaviour shows Muda outperformed PKR in garnering political support in Johor, and, contrary to most positions taken so far, brings to the table value to strengthening Harapan.

Bringing out the vote

The last three state elections – Malacca 2021, Sarawak 2021, and Johor 2022 – have had one thing in common, lower turnout, especially lower turnout of supporters who voted for Harapan in the past.

These three elections – all with coalition chairperson Anwar Ibrahim at the helm – have witnessed serious erosion of Harapan support compared to GE14 in 2018, and in some cases, even to GE13 in 2013.

Among the coalition partners, PKR has performed the worst, losing the deposit of one seat in Malacca, 22 of 28 contests in Sarawak, and seven of 20 contests in Johor.

By contrast, Muda did not lose deposits in any of the seven seats it contested in Johor, despite having no record in contesting in any of these seats beforehand.

A reason for this lies with Muda's better ability to bring supporters to the polls. Looking at past voting patterns of 2013 and 2018 at the local level in Johor 2022, Muda was able to bring out an estimated 43 percent of previous Harapan supporters while PKR was only able to bring out an estimated 35 percent.

Focus groups suggest that PKR's losses in Johor are tied to a lack of enthusiasm for its leadership and internal problems with its machinery, repeatedly battered and purged of supposed 'betrayers' since the Sheraton Move.

MUDA also had a more dynamic social media campaign and messaging that was largely missing from PKR.

If Harapan aims to hold on to its incumbent seats, least of all winning new ones, the coalition needs to have parties that bring more voters out to vote.

Winning the young

The results show that Muda was especially successful in winning electoral support from Undi18 voters, capturing most of all parties – including those in Perikatan Nasional and Umno.

While Undi18 is only five percent of the overall electorate, this group will be decisive in close contests. They are particularly important as they turned out in higher numbers in Johor compared to voters in their 20s and 30s.

They clearly rewarded Muda for its efforts to bring them out to vote and connected with the party's more energised campaign.

In the seats each of the parties contested, Muda outperformed PKR across all of the different age cohorts, even among older voters.

PKR's support in Johor was concentrated among older voters, losing the pivotal support of younger voters who now comprise half of the country's electorate. From a generational perspective, Muda outperformed PKR in Johor.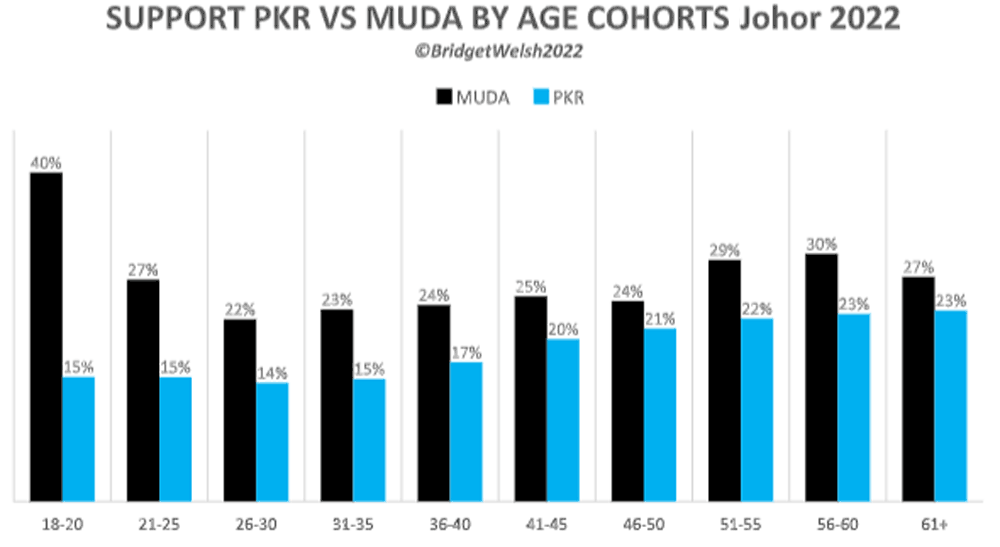 An ethnic lens comparing the performances of PKR and Muda shows that both parties suffer from a serious erosion of support among Malay voters in the Johor polls.
In fact, both DAP and Amanah outperformed these parties among Malay voters, although not by much as the average support among Malay voters for Harapan was an estimated seven percent.
This number is a serious drop from Malacca 2021 and GE14.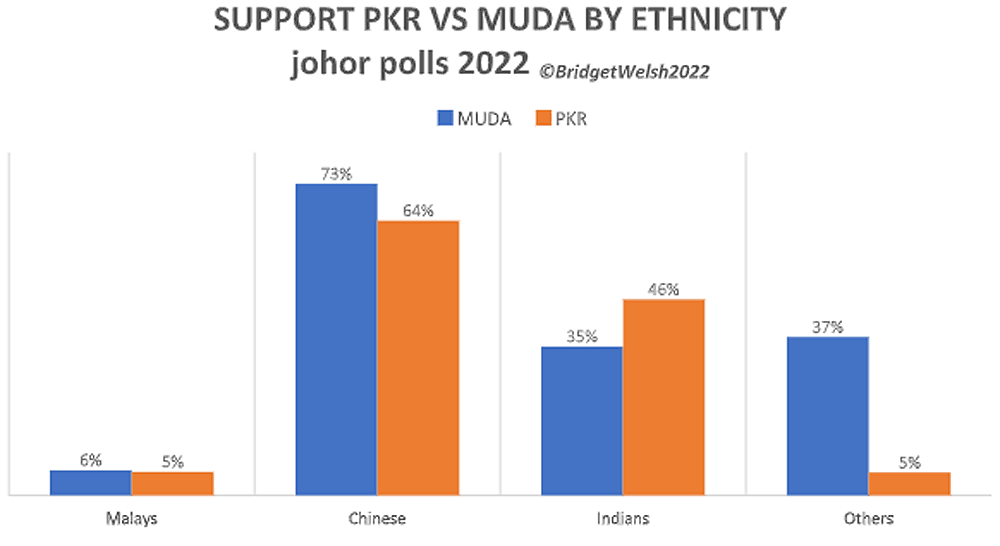 Interestingly, however, Muda outperformed PKR among Chinese voters, by a margin of an estimated nine percent. Muda's performance was on par with other Harapan parties in this community.
It was lower, however among Indians, where PKR received greater support by an estimated 11 percent. PKR won the same share as other Harapan parties, with Umno/BN winning the largest share among Indians.
'Others' comprising voters from Sabah, Sarawak, and less populated ethnic communities were most inclined to vote for Muda than PKR.
These findings show that PKR has lost significant ground across communities and that among the Chinese community it receives the least overall support of all the parties in Harapan and with Muda in Johor.
PKR is not attracting significant support, even among the traditional Harapan core, while Muda is holding its own on par with other Harapan parties – except among Indians.
Given that Muda was in its maiden election – without incumbency or established political machinery – its performance across seats is strong.
Not a matter of safe seats
One might think PKR performed comparatively poorly because it contested in less safe seats compared to Muda. This is not the case.
Both parties had a range of seats in both urban and rural areas, with PKR the incumbent in seven seats, MUDA still performed better overall – the average support for Muda in the seats it contested was 25 percent of the vote, while for PKR it was 19 percent.
Muda received 43 percent of the vote in Puteri Wangsa, while in the incumbent seat of Bukit Batu – the only seat PKR won – the party secured only 39 percent of the vote.
In many of the PKR incumbent seats, such as Rengit, the party only secured a small share of the vote, 13 percent, as Umno swept back into victory.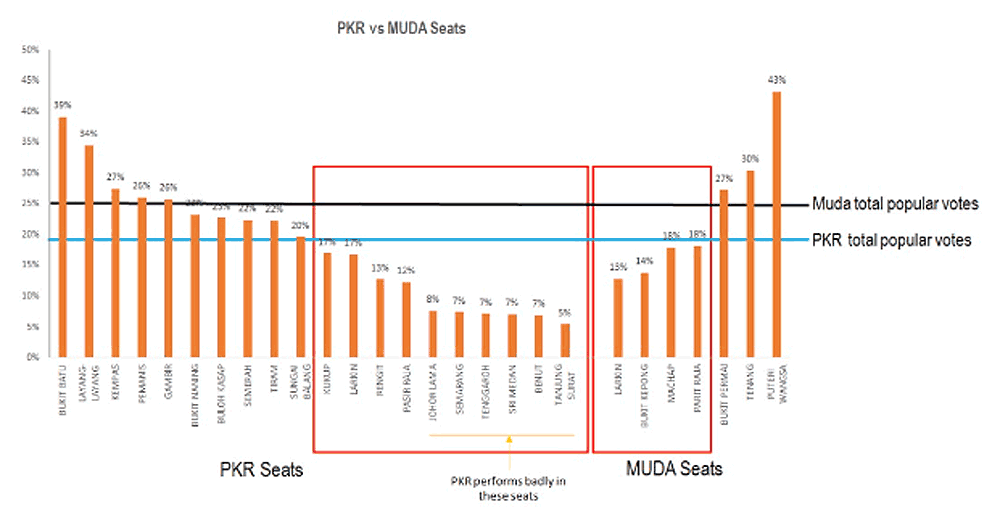 Closer look at Larkin
The constituency where the two parties contested against each other, Larkin, is revealing.
PKR secured 6,448 votes or 17 percent while MUDA won 4,948 or 13 percent of the vote. The results show that neither party would have won the seat if it had captured the vote of the other as Umno secured 42 percent.
In fact, PN won 26 percent of the vote, almost the vote of PKR and Muda combined. The view that Muda hurt PKR's chances in Larkin is not sustained by the numbers.
A closer look suggests that Muda performed better among younger voters in Larkin, with PKR winning a larger share of older voters.
This further illustrates that Muda has a comparative advantage over PKR among the young and that PKR's support rests more heavily on loyalty from the past among older voters.
Unfortunately, Muda has become a convenient target to blame for PKR's weak current electoral performance rather than a recognition of the party's own erosion of political support.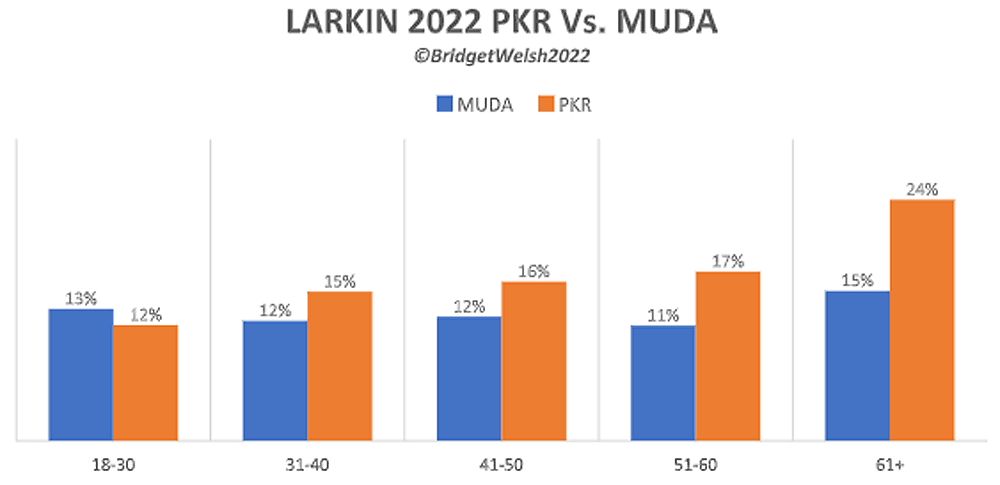 Moving forward
The findings suggest two important implications.
First, based on the numbers, the case for bringing Muda into the coalition as an equal partner is strong.
Muda's Johor performance compared to that of PKR – bringing more traditional Harapan voters out to vote for them, stronger performance across different age cohorts, especially among Undi18 and younger voters, and holding its own across a range of different types of seats show that the new party performed well.
Among younger voters, especially, it was more the party of choice than PKR in Johor.
Some argue that Muda rode the Harapan bandwagon, but given that PKR's support level seriously eroded in Johor, it appears that Muda helped to stabilise and increase support for the opposition as one of the three Harapan parties in the coalition failed to deliver votes.
The numbers indicate that Muda brought overall greater support to the opposition than PKR in Johor. As Larkin shows, collaboration rather than competition offers greater electoral strength, although the opposition, on the whole, will need to increase support if it hopes to maintain its seats and gain votes.
Second, PKR is facing serious problems in winning support. Rather than blame others, the party should recognise how its past and the trauma of this past are limiting its future.
The party will need to address factors limiting its appeal, including a need to rejuvenate its leadership and address the damage to party machinery from political purges and persistent distrust.
In recent months, PKR has taken steps to recognise its decline in support, under the leadership of deputy president Rafizi Ramli directing the party's campaign.
The focus to date has been to concentrate on rejuvenating the party's core base. The Johor comparative results show however that PKR's political base has changed, relying more on older political loyalties.
The voting patterns suggest that the party cannot recover on its own – it will need to work with its opposition partners, including Muda, to return to its earlier electoral support. Opting against cooperation may only serve to bring PKR's own fears of political displacement closer to reality.
First published on malaysiakini.com.