27 Oct

Retaking the Felda Malay heartland

Far away from the limelight, an electoral battle is being waged in the Malay heartland of Felda and Felcra areas.

Umno is working to wrest back this traditional "safe" vote bank after serious erosion of support in 2018. The contest for the Malay not-quite-as rural as it used-to-be vote bank of over an estimated 1.5 million voters is fierce.

Felda or Felcra areas extend into 90 seats, or 41 percent of the total seats in the Dewan Rakyat. The overwhelming majority of these areas are Malay, making up over 90 percent.

This second piece in my 'on the road to GE15 series' looks at support in both Felda and Felcra areas (simplified as Felda below), from 2008 onwards, focusing on the support of the younger generation in Felda areas.

Using analysis of over 1,200 different polling stations across the country in Felda schemes, estimates are made of voting trends and of current issues.

Umno's rural vote bank

Felda areas have long been an advantage for Umno/BN but have become increasingly competitive.

While there have been different generations of Felda schemes and there is variation in support across the states, patterns of voting have largely been similar – a reliable base for Umno.

Often given more weight through gerrymandering and malapportionment, Felda areas have allowed the party to traditionally hold onto power.

In GE14, for the first time, this national Felda vote dropped an estimated 16 percent, from 72 percent to 56 percent. Seats such as Segamat, Labis, and Kubang Pasu (among others) were won by the opposition.

PAS won the largest share of support in these areas, an estimated 24 percent compared to 21 percent by Pakatan Harapan.

As a result (along with other factors developed in other pieces), the balance of power in the country shifted.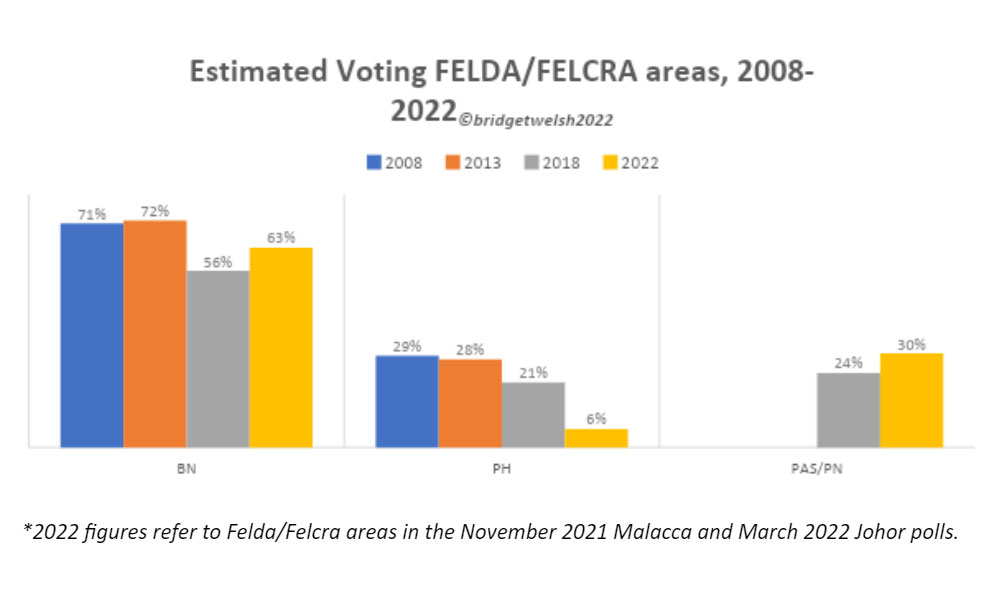 Early indications are that these areas are shifting back to Umno. In the Malacca and Johor polls, PAS – now with Bersatu in Perikatan Nasional (PN) – captured an estimated 30 percent of the support, increasing its share of support, while Harapan's support in these areas dropped significantly to an estimated 6 percent.
This comes after Bersatu president Muhyiddin Yassin worked hard to try to dent the support of Umno in the March Johor polls, but only made limited progress.
Malacca and Johor have been areas where Umno has been strong, and the party was able to regain their Felda support.
Ismail Sabri's Felda bonanza
Nevertheless, given what happened to Umno in 2018, it is not a surprise that Ismail Sabri Yaakob is going all out to win these areas.
Despite apparently violating the role of a caretaker prime minister in making financial decisions after the dissolution of Parliament, Ismail Sabri announced a sweeping debt relief package, writing off Felcra debts in "less-viable projects".
This involved 323 projects covering 22,173 hectares of land, amounting to RM233.8 million.
There was also the announcement of a profit distribution scheme of RM181.5 million to almost 75,000 Felcra participants (RM 2,421 per participant) promised for later this year. This came after Felcra reportedly recorded a 38.1 percent profit increase compared to last year.
In addition, around 230,000 rubber smallholders are to receive RM15,000 one-off grant (RM10,000 for equipment purchase and RM5,000 for training purposes). Each are to also receive RM600 monsoon aid in November and December this year.
#UndiBanjir is taking on a different meaning as Felda areas are being flooded with promises of cash and benefits.
One of these important benefits is housing. For example, the FGV Ladang Tembangau project, which covers 1.2 hectares of land and will help settlers own homes, has been reinstated in Pahang.
This comes after RM65 million was promised in July in broader promises to Felda settlers across the country.
These promises include RM20 million for a Housing Credit Guarantee Scheme fund, RM10 million in a revolving entrepreneurship fund to give younger Felda generations with interest-free loans of up to RM20,000, RM6.1 million management fund for the takeover of rubber collection centres, and an RM21 million special development allocation of RM66,000 to every 317 Felda settlement areas.
Importantly, Ismail Sabri has roots in a Felda area and he is rewarding these communities. He is resting his leadership bid on the support of these rural communities.
Less favourable rural terrain
While gains have been made in support, there are reasons for Umno to worry. Importantly, the price of rubber has dropped compared to where it was earlier in the year, as shown in the chart below.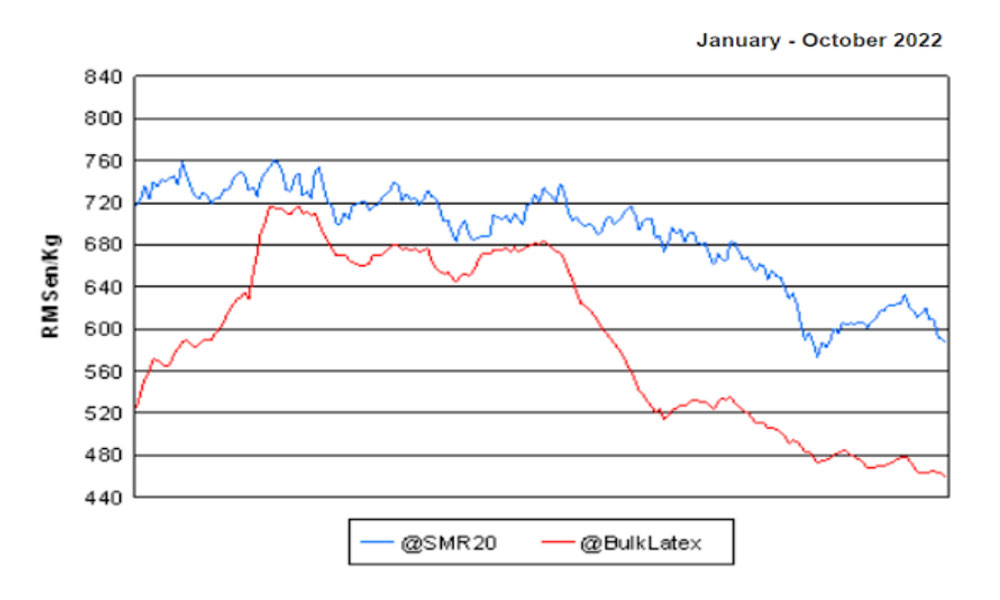 Felda settlers are concerned with the drop in their incomes. In interviews I conducted in Felda communities across Malaysia's Peninsular East Coast this week, settlers spoke of the higher cost of living and lower incomes.
Repeatedly, women highlighted shortages of eggs and the cost of food, including chicken. Others – men and women – pointed to the inadequate attention to roads in Felda areas, with large potholes from lorries and lack of proper maintenance.
Generally, despite improvements compared to earlier decades, there has been a decay in the quality of services in many of these areas in the past few years.
There is a modest marked generational shift in electoral support and engagement taking place among Felda settlers. The younger generation of voters is increasingly less likely to give their vote to Umno/BN compared to older voters.
In GE14, only an estimated 48 percent of Felda youth (under 30 years old) voted for Umno, compared to an estimated 69 percent in 2013.
In 2021-2022, gains were made by Umno in Felda areas in Johor and Malacca, reaching an estimated 60 percent, but not to the levels of the past.
Younger voters now comprise more of the voters in Felda areas. At the same time, younger Felda voters are looking for alternatives and more have disengaged politically after 2018.
Many Felda youth did not turn out to vote in the 2022-2021 state elections, an estimated drop of 17 percent. Felda areas will be influenced by the 15-20 percent of voters working or studying outside (disproportionately young) that will (or will not) return to vote.
Among the opposition alternatives, PN has picked up support in Felda areas, especially in states where PAS is in power in the state government.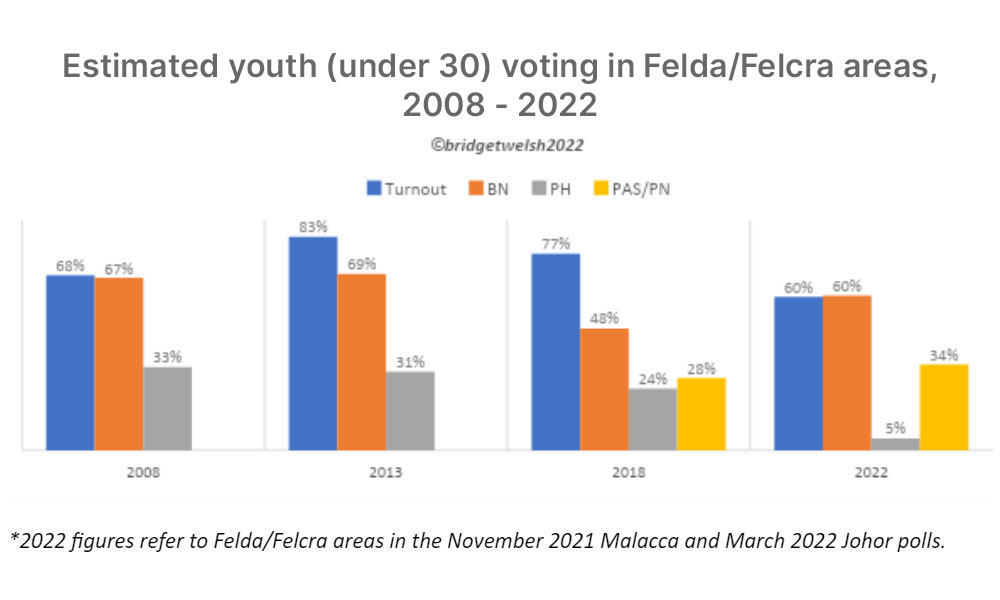 Importantly, the Felda rural areas are also not as rural as they used to be. They are connected through social media and are aware of national issues, even if such issues are less important in their lives.
Like many Malaysians, they are confused about the options on offer and often could not clearly differentiate PAS from Bersatu from Umno in many places. Arguably, the same is true in more urban areas as well.
Many questioned the calibre of leadership in Umno. Ismail Sabri was preferred to Umno party president Zahid Hamidi, but there was uncertainty about where Malaysia was headed.
There was considerable doubt that electoral promises would be delivered, given the disappointment in delivery in the past.
One farmer aptly asked me: "What percentage of the promises do you think will be kept?"
Noteworthy, former prime minister Najib Abdul Razak was an issue among Pahang Felda settlers. His potential release resonated among rural voters in his home state, as many do not understand why he was imprisoned.
What is clear, however, is that the battle in Felda areas is one about Umno itself – its leadership, its governance, and commitment to the rural development of Felda areas – which are still dependent on government support after many decades.
Relative poverty and social mobility among Felda settlers are still serious national issues. Felda settlers look for possible advancement, even the accidental type of former Felda settler Ismail Sabri.
In GE15, Ismail Sabri ironically now depends on Felda areas – his base – to get back into power.
First published in malaysiakini.com.