04 Oct

Umno swimming in Pelangai?

The coming by-election this weekend in Pahang is yet another test for the grand old party, Umno at a time when it has been struggling for political support.

Created in 1986, this rural/semi-rural constituency, a couple of hours outside of Kuala Lumpur, has long been an Umno stronghold.

For eight terms, Pelangai was held by Umno's former menteri besar Adnan Yaakob before he retired in 2018.

The late Johari Harun was a first-term representative elected last November, hoping to bring new ideas for development in an area that combines Felda settlements with a small town.

This piece details the voting history in this constituency, arguing that there are four factors that will shape the outcome of this election – Umno's Malay support, loyalty among non-Malay BN voters, crossover of Pakatan Harapan non-Malay voters to Umno, and Umno's persistent strength among younger voters in Pelangai.

Pelangai's voting history replicates that of the past, when Umno was strong. This election will indicate whether the party is able to hold onto its past and maintain a stronghold seat and slow PAS' extension of power.

Another Malay battle

Pelangai is a Malay majority seat, with 72 percent Malay voters in a seat of 16,456 voters. Most Malays live in the Felda areas, so in this regard, the battle is also another Felda contest.

In the 2022 election, Umno won an estimated 59 percent of the Malay vote in Pelangai, with Perikatan Nasional picking up only an estimated 35 percent and Harapan a mere estimated five percent.

This result speaks to how much of a Umno stronghold this seat is. Compared to other seats in Pahang, where Umno's overall Malay support in this state was only an estimated 42 percent and PN's an estimated 49 percent, Pelangai bucked the trend as Malay voters confidently stayed loyal to Umno.

Since 2022, Malay support for Umno has eroded further as PN made gains across elections from as much as an estimated 22 percent gain in the state elections of Negeri Sembilan to an estimated seven percent in Kelantan in August's six state elections.

The party leading in gains among Malays is PAS, contesting in Pelangai. Two key questions in assessing this contest are 1) how much will PAS gain among Malays in Pelangai and 2) whether this amount will be enough to win.

Scenarios suggest that PAS can win Pelangai if it is able to secure 62 to 68 percent of the Malay vote, depending on turnout.

This figure lies comfortably in the national patterns of Malay support for PN and PAS, but is a significant gain in Pahang (by at least 13 percent) and an even larger gain given the history of Pelangai (gain of 27 to 33 percent).

On the scope of Malay support swing alone needed to change the seat's fortunes, Umno has a reasonable chance of retaining Pelangai. Yet, recent elections do show that a big "Green" swing is not impossible to achieve for PAS.

The saliency of their campaign "Pahlawan Melayu" (Malay warrior) clearly points to Malay gains, but it is unclear whether it will reach the threshold for victory, as Malay votes is only one of many factors influencing the outcome.

BN's non-Malay loyalty

The second factor that will shape the outcome of the seat will be non-Malay support. Pelangai comprises 18 percent Chinese voters, six percent Indians and four percent Orang Asli and other communities. Each of these communities will shape the result, given the increasing competitiveness of the constituency.

What distinguishes this seat from the national pattern is the limited polarisation of voting along ethnic lines. Umno/BN won large shares of support among all of the communities in this seat, especially Orang Asli (estimated 82 percent) and Indians (estimated 51 percent).

Even among Chinese voters, Umno/BN won an estimated 45 percent. The party did this in collaboration with its BN partners, MCA and MIC, as well as the pull of the Umno-led state government.

In many ways, voters in Pelangai will not only be deciding whether Umno's Malay base is comfortable being in the unity government, but also whether non-Malay voters who voted for BN in the past are comfortable in the unity government.

There is dissatisfaction among some non-Malay BN voters who feel left out of the unity government, but it is not yet clear whether this will be decisive.

Noteworthy, however, is that PN did not win any support from non-Malays in 2022. PAS will hope to make gains, picking up on possible disgruntlement. It will face an uphill task, as PAS support among non-Malays in Pahang in the past two elections has been extremely low.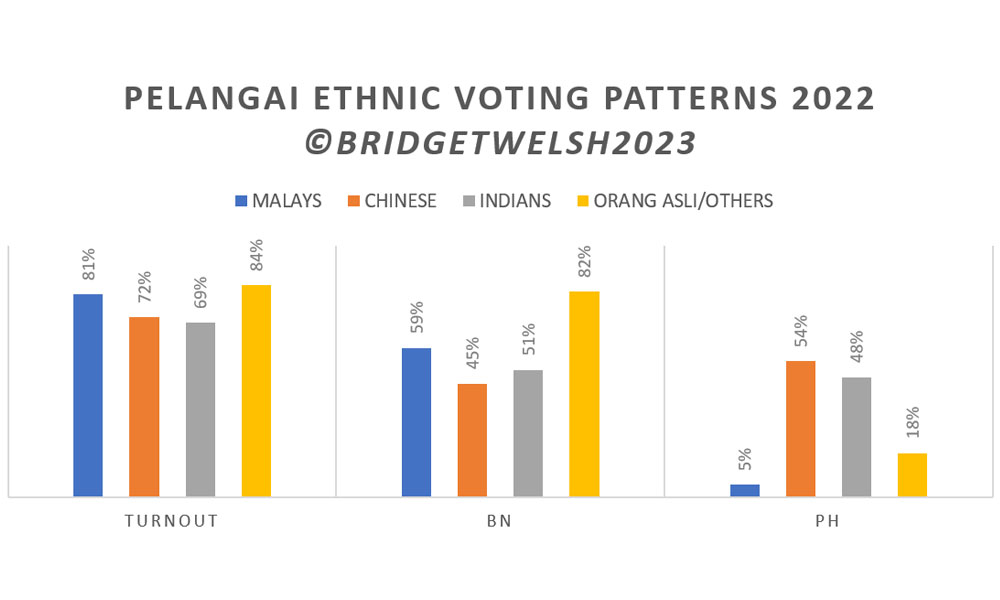 Harapan crossover to Umno
Non-Malays in this seat, whether they return to vote and who they vote for, will matter. As Malay support drops for Umno, there is greater dependence on non-Malay support.
Another factor in this seat will be whether there will be Harapan crossover to Umno, notably whether Chinese and Indian voters will support the latter. These communities turned out less than others in 2022, but turnout levels were reasonably high then.
This by-election turnout and Harapan crossover to Umno will be crucial. Depending on the level of turnout and the scope of Malay swing, Umno will need at a minimum of a third of traditional Harapan Chinese support and half of traditional Harapan Indian support to hold onto the seat.
It will also need to win over the estimated five percent of Malays who voted for Harapan in 2022 but are not asked to vote for Umno. Ironically, Umno now depends on the support of voters who have long opposed it.
The national trend has been a growing electoral co-dependence among unity government parties/coalitions, with crossover votes essential for securing victories in now primary two-major contenders contests.
Pelangai puts the spotlight on how much Umno is now dependent on support that it has not won before.
Youth factor
Another group that Umno will depend on is younger voters, an issue that was tied to the controversy about the selection of the candidate from Umno. Unlike the national trend, Umno won the majority of younger voters under 30 years of age, an estimated 60 percent in 2022. These voters make up a quarter of the electorate in Pelangai.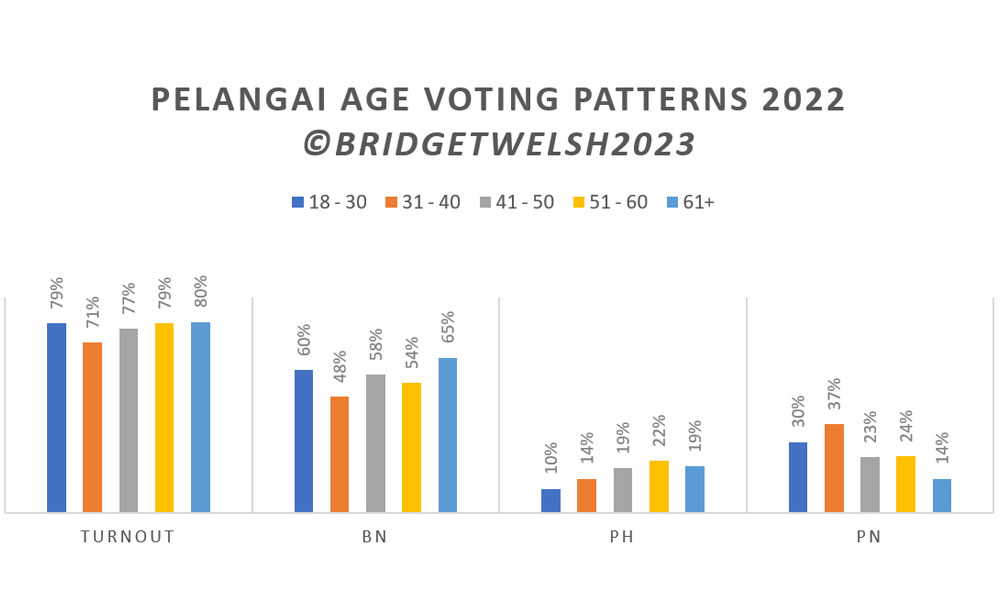 The age group that Umno had the least support in 2022 is another quarter of the electorate, those in their 40s, where the party only won an estimated 48 percent.
PN will be focusing on these two groups of voters under 40 years of age in this election, hoping to win over youth voters as it has done elsewhere.
Umno's ability to hold youth support will be decisive. Reminiscent of the Mat Kilau film, the "pahlawan" imagery is geared toward strengthening its appeal as the PAS campaign moves away from its Islamist roots to a broader ethnonationalist message.
Relevancy for Umno
The stakes for this by-election may appear little nationally, but, for Umno, the Pelangai result will go to the heart of its future, nationally and in Pahang.
Given the stakes that the Umno state leadership has invested in the campaign, securing a seat of a former MB, its electoral strength is also being tested.
The campaign has prominently featured the use of incumbency at the state level and access to the federal government, suggesting that a PN victory will not yield gains to voters. This reliance on incumbency is an old message Umno has used in the past that it hopes will continue to be relevant.
In Pelangai, Umno is working to reaffirm its relevancy. Its leaders are not connecting to the same degree as in the past. The outcome will indicate whether the party is able to swim, merely tread water or is in fact drowning from lower support from voters, both young and old and across communities.
The result will indicate whether it is holding onto enough of its base. It will also indicate whether the party can begin to secure a new base through its electoral co-dependence on its unity partners and through a crossover vote.
Unlike in the past, this Umno stronghold seat is competitive. It is far from a sure win for the party.
If Umno loses and PAS does beat the odds and secure a victory in the former's traditional stronghold, Umno will indeed be drowning well beyond the levels described by its leaders in the campaign.
Indications a few days out of the voting day are that Umno should have its head above water, but it is still struggling to swim.
First published on Malaysiakini.